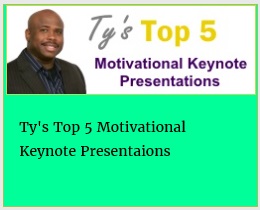 For over 21 years, Ty Howard has inspired, energized and motivated over 3 million people nationally and internationally. He delivers engaging, funny, substantive, and entertaining motivational keynote and breakout presentations that connect, relate to and elevate participants to have a positive attitude, peak perform, increase productivity, develop success habits, capture greatness, and live at their best.
Ty's dynamic and energizing keynote, plenary or general session presentations can be 20 or up-to 90 minutes long; his breakout sessions can be 50 minutes or up-to 2 hours long.
Here are Ty's Top 5 Requested Motivational Keynote Presentations:
1) You Were Born to Be G.R.R.R.R.E.A.T.!!!!TM
2) Re-Capturing and Re-Igniting Your PASSION
3) Excelling in Leadership
4) NO Bullying Allowed! Save a Life. Save a Friend. Save a Dream.
5) Unleash the R.E.A.L. Dad in YOUTM
Back