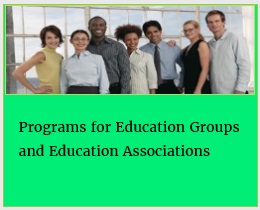 For over 21 years, Ty Howard has inspired, energized, motivated and equipped school teachers, administrators, superintendents, governing school board members, school district leaders, counselors, nurses, bus drivers, cafeteria food service professionals, staff, and education association members to go after and capture a higher level of passion and greatness at work and in life.
Below is a list of Ty's program presentation titles for you to review and choose from. If you would like to receive a description with Ty's potential talking points on a specific program you have interest in for your group, send us an email through our site and we will promptly email it to you. Thank you for visiting and viewing CapturingGreatness.com.
Here are Ty's Program Titles for Education Groups and Education Associations:
1) Re-Capturing and Re-Igniting Your PASSION
2) Leading and Achieving Through Greatness
3) How to Motivate and Re-Energize Teachers
4) Untie the Knots® Improving Habits, Choices, People, Relationships, Performance, and Results
5) Tying Into A Better YOUTM
6) Building an Attitude of Excellence
7) Excelling in Teamwork
8) Excelling in Leadership
9) The Revolutionary Administrator (Principal)
10) Working with Students and Families in Poverty
11) NO Bullying Allowed! Save a Student. Save a Life. Save a Dream.
12) Awareness and Prevention Strategies on the Opioid Epidemic
13) You Have to S-T-R-E-T-C-H and Focus for Continuous Success
14) Making the Embracing and Celebration of Diversity in School, Cool
15) Cultural Sensitivity in the Workplace: Working Respectfully and Harmoniously Together
Back