Are you being delayed in life from accomplishing important goals, staying happy, feeling fulfilled, or living life at your best due to your current state of feeling tied-up or stuck?
Nearly every one of us has suffered from one or several challenging knots in our lives at one time or another. Toxic knots like: procrastination, poor choices, fear, excuse-making, self-pity, the past, feeling stuck, repeated missed opportunities, denial, clutter, debt, chaos, toxic relationships, trying to be like others, continual pain, anger, mediocrity, or stress. Sometimes it feels like they'll never come undone… that they'll only get tighter and tighter. Sometimes it feels like they'll drive you crazy! And if you do not discover how to identify and boldly Untie the Knots® That Tie Up Your Life,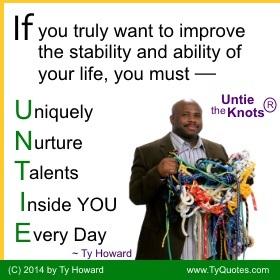 these knots can pose a serious threat to your whole life… your health, relationships, career, money… you fulfilling your life's ultimate purpose. Don't despair—there are answers, solutions, strategies, and a real-life intensive coaching process that can assist you in setting yourself free to create and live the life you desire.
To successfully identify and Untie the Knots® in your life so you can break-free, get unstuck, and/or reclaim peace of mind and happiness, it will take an intensive coaching program and coach, and a proven process that delivers on your desired outcomes. You will need to gain control of your life, health, career, family, finances, and personal relationships to turn your current limiting situation (habits or circumstances) into healthy and successful actions that will put you on the path to continuously achieve your important goals, and ultimately create the outcomes and life you truly want.
Ty Howard's customized to fit your circumstances Untie the Knots® Coaching Program combines personal guidance and intensive instruction that will inspire, push, encourage, empower, s-t-r-e-t-c-h, and challenge you to break-free from what currently has you feeling tied-up and stuck, and move to a place of constant Green & Growing action and positive living.
Here's where you connect and work directly with the Untie the Knots® Principles through intensive – life-changing – coaching sessions with Ty Howard. Do you currently feel tied-up and stuck in some area or phase of life? Would life be better for you if you… Removed toxic habits? Resolved interpersonal issues undermining your performance? Worked smarter and harder to improve your health? Improved your career or education level? Improved troubled relationships? Reclaimed your peace of mind and happiness?
Then this is the accelerated approach for you.
Coach Ty will guide you as you:
• Identify and begin to Untie the Knots® in your life
• Boldly stand up within to change and grow
• Acknowledge and push through your fears
• Set unstoppable written goals
• Quit marking time—and move forward
• Learn the best defense against toxic people who derail your success and happiness
• Learn smarter ways to inspire and empower yourself to better health
• Enjoy more healthy and rewarding relationships
• Avoid self and outside sabotage, moving forward
• Create a life of significance to live purposefully and leave a 'positive' lasting legacy
The Untie the Knots® Coaching Program is a great fit for people –
– On all career, business, education, athletic, and personal success levels
– Looking to set new standards for their life
– Wanting to map-out a mission and purpose-driven action plan for their life
– Looking to gain better control of and master time management
– Wanting to move from the state of being overwhelmed to living vibrantly
– Looking to make improvements in personal and work relationships
– Wanting to create a more positively vibrant, smile-filled, and happy life
– Looking to improve their image, character, and communication skills
– Wanting to be encouraged and empowered to confront and push through their fears
– Looking to improve their habits, choices, health, family, and finances
– Wanting to go to the next level(s) of success in their careers, education, and business
– Ready and determined to break-free of what's holding them back, and begin doing
what they need to do to move continuously forward
Your time has now come for Untie the Knots® That Tie Up Your Life action.
Coach Ty's fee may be as low as $950 a month, or as high as $5,500 a month (depending on your life's knots, needs,
desired outcomes, and 'customized' and agreed upon coaching program).
The Untie the Knots® Coaching Process typically requires a minimum
6-month commitment to make the relationship work.

What It Includes
Your Untie the Knots® Coaching Program will include –
• A six month, nine month, or 12 month coaching engagement with Ty Howard
• A two-hour Discovery session, to give shape to your ambition, dig into your
challenges, identify opportunities, and articulate your goals
• Co-Creation of a developmental behavioral, habits and skills objectives
• Co-Creation of an Untie the Knots(R) Personal Development Action Plan
• Metrics for success
• Deadlines, timelines, and accountabilities
• Three scheduled mandatory 50 minute coaching session phone calls each month
• Personal meetings as Ty deems necessary and appropriate
• Exercises, homework, and insights tailored to your personal accountability action plan
• Unlimited email support: convenient, brief check-ins between sessions
• Unlimited review of your effective 90-day action plan
• Bi-Monthly summary of coaching work and assessment of future needs
• At least one brief check-in call each week during the month (5-10 minutes),
to share progress, address hurdles, and get immediate feedback between sessions
*A six-month commitment is strongly recommended.
**Note #1: We also accept credit cards.
***Note #2: You will create an effective 90-day Untie the Knots® Personal Development Action Plan to accelerate your performance and hold yourself accountable to achieving your desired Untie the Knots® results.
In this coaching relationship, Ty Howard will call you, write to you, and even push you if he must, to help you achieve the specific Untie the Knots® goals you have agreed upon. The program is ongoing for six, nine, or twelve months. You will be in contact weekly. Or, at least, Ty will! You may start at any time, on a day and date you choose. You will never have to doubt Ty's commitment to you, he brings his full commitment, success strategies, tools, and passion to each client he accepts into his intensive Untie the Knots® Coaching Program. There are no "breaks" or "freezes" once you get started working together. There are also no refunds of any payments in this engagement, for any reason, unless Ty Howard cancels your participation because he feels you do not want to be helped or you're not 100% committed to your co-created coaching agreement, in which case, he will then provide you with a pro rata refund.
You may also call or write Ty Howard at his business office Monday through Friday, 9:30 AM to 6:30 PM Eastern Time at (443) 982-7582, to ask questions or have a discussion on your participation in his intensive Untie the Knots® Coaching Program.
---
---
Coach Ty offers you a 30 minute, one-time, "FREE – Introductory Session" so you can try him on as your Coach. Sign up NOW.
---
---
Have a question? Email Coach Ty at info@capturinggreatness.com