Are you ready for a HUGE Breaking-Free Experience in Your Life that will Improve Your Choices, Health, Relationships, Happiness, Outcomes, Career, and Success?
Ty Howard is one of the world's most trusted advisors on breaking-free from struggling or toxic circumstances to maximize human potential. He has helped leaders, athletes, business owners, and people from all walks of life to boldly identify and Untie the Knots® in their lives. In turn, freeing them to make quantum leaps in their confidence, relationships, work life, family life, and success habits – while transforming their personal lives. Ty has also helped people to heal some hurts so they could bring back to their lives radiant health, purposeful action, and vibrant energy; enabling them to fully enjoy the positive flow of life, again. His unique gift of providing insights, tools and systems inspires and drives improved human potential, and captures significant personal results—especially a positive commitment to knots-free living, decisive decision-making, better health, happiness, and continuous steps of accountable action for constant growth and success.
The Untie the Knots® Life and Success Private Client Mastery – Coaching Program provides you a rare opportunity to work one-on-one with Ty Howard to create your extraordinary Green & Growing professional and personal life. Each year, a limit of only 15 candidates are accepted from around the world to participate in this highly intensive, challenging, and life-changing coaching process.
Imagine how you would feel if you finally took the necessary steps to boldly identify and Untie the Knots® that have been delaying you from the quality of life, career, relationships, and success you truly want.
Imagine gaining clarity and purpose to eliminate stagnation in your life, and developing the inner confidence that will enrich and empower you to live beyond your expectations.
Imagine having the right tools to create a happier, healthier, rewarding, and more vibrant life—sooner rather than later.
Imagine your life moving from one new level of success to the next, continuously, because of a customized-to-fit-you accountability and success habits coaching system, and Coach Ty's intensive guidance, encouragement and support.

Well you do not have to imagine anymore… Ty can and will show you how to make this a reality, not some day in the future but starting TODAY.
Over the past 18 years, Ty Howard has successfully coached a select number of dedicated clients who wanted to ultimately identify and Untie the Knots® in their lives so they could move on to new levels of success, and better living and giving with their lives. And you can, too!
Whether you are inspired to do better in life, go after and capture higher levels of success or desperate to get untied and unstuck in your life,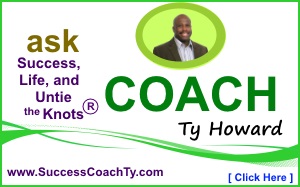 The Untie the Knots® Life and Success Private Client Mastery – Coaching Program might very well be your best option. Step-by-step, it will progressively move you past perceived limitations to you living with purpose, confidence, fulfillment, and re-ignited passion.
With the help of Ty Howard, you will establish and execute a powerful personal plan of action that will enable you to make your current professional and personal life much, much better.
Ty will help you to:
• Clarify what you do and do not want
• Believe more in yourself to better prepare and position you for life-long success
• Be honest and real in acknowledging why and where you are in life right now
• Find your niche and what works for you
• Develop a clear vision and purpose statement for your life
• Learn the secrets to enjoying a better work-life balance
• Establish a system of conquering your fears and frustrations
• Set goals, stay focused, and work hard to accomplish them
• Hold yourself accountable for your life and desired outcomes
• Defeat procrastination and excuse-making
• Gain control of and master time management
• Find your passion, and begin working on and in what you LOVE doing
• Increase your self-confidence while improving your self-esteem and image
• Feel more satisfied and fulfilled with life
• Attract the right opportunities, people, and relationships into your life
• Break free of negative habits that move you away from living your dreams
• Become a constant winner and achiever in life, faster
It's Your Time

It's Your Year

It's Your Life

Together, YOU and Ty can make 2017 your best Green & Growing Optimal Living and Success Year ever.

Coach Ty's fee may be as low as $1,200.00 a month, or as high as $7,500 a month (depending on your specific life and success mastery goals, needs, desired outcomes, and 'customized' and agreed upon coaching program).
The Untie the Knots® Private Client Mastery – Coaching Process
typically requires a minimum
6-month commitment to make the relationship work.

What It Includes
Your UTK Life & Success Private Client Mastery – Coaching Program
will include –
• A six month, nine month, or 12 month coaching engagement with Ty Howard
• A two-hour Discovery session, to give shape to your ambition, dig into your
challenges, identify opportunities, and articulate your goals
• Co-Creation of a developmental behavioral, habits and skills objectives
• Co-Creation of an UTK Private Client Mastery Personal Development Action Plan
• Metrics for success
• Deadlines, timelines, and accountabilities
• Three scheduled mandatory 50 minute coaching session phone calls each month
• Personal meetings as Ty deems necessary and appropriate
• Exercises, homework, and insights tailored to your personal accountability action plan
• Unlimited email support: convenient, brief check-ins between sessions
• Unlimited review of your effective 90-day action plan
• Bi-Monthly summary of coaching work and assessment of future needs
• At least one brief check-in call each week during the month (5-10 minutes),
to share progress, address hurdles, and get immediate feedback between sessions
*A six-month commitment is strongly recommended.
**Note #1: We also accept credit cards.
***Note #2: You will create an effective 90-day Untie the Knots® Life and Success Private Client Mastery – Personal Development Action Plan to accelerate your performance and hold yourself accountable to achieving your desired life and personal success results.
In this coaching relationship, Ty Howard will call you, write to you, and even push you if he must, to help you achieve the specific life and personal success goals you have agreed upon. The program is ongoing for six, nine, or twelve months. You will be in contact weekly. Or, at least, Ty will! You may start at any time, on a day and date you choose. You will never have to doubt Ty's commitment to you, he brings his full commitment, success strategies, tools, and passion to each client he accepts into his intensive Untie the Knots® Life and Success Private Client Mastery – Coaching Program. There are no "breaks" or "freezes" once you get started working together. There are also no refunds of any payments in this engagement, for any reason, unless Ty Howard cancels your participation because he feels you do not want to be helped or you're not 100% committed to your co-created coaching agreement, in which case, he will then provide you with a pro rata refund.
You may also call or write Ty Howard at his business office Monday through Friday, 9:30 AM to 6:30 PM Eastern Time at (443) 982-7582, to ask questions or have a discussion on your participation in his intensive Untie the Knots® Life and Success Private Client Mastery – Coaching Program.

---
---
Coach Ty offers you a 30 minute, one-time, "FREE – Introductory Session" so you can try him on as your Coach. Sign up NOW.

---
---
Have a question? Email Coach Ty at info@capturinggreatness.com