About Ty Howard
• Founder, CEO and Editor-in-Chief of the online magazine, MOTIVATION
• Successful Entrepreneur and Business Leader
• Enrichment, Empowerment, and Success Habits Development Consultant
• One of America's Most Dynamic Speakers for Teens, Students, Educators and Parents
• Best-selling Author
• Anti Bullying, Anti Hazing and Suicide Prevention & Awareness Expert
• Military Veteran (Served 10 years in the U.S. Navy)
• Engaging, Enthusiastic and Inspiring – Personality
• Responsible and Accountable Dad
• Positive Role Model and Leadership Development Coach
• One of the Easiest and Enjoyable 'Professional' Speakers to Work With
• Community Humanitarian and Philanthropist
___ – Ty Howard's College Scholarship Fund Program
Ty Howard is a nationally and internationally renowned success-habits development consultant, youth performance improvement expert, and motivational speaker who can connect with and inspire teens, young adults, and professionals from all walks of life. For each of 21 consecutive years he has presented over 80 dynamic motivational keynote addresses, school assemblies, and life-skills development workshops to teenagers, young adults, students, educators, administrators, school superintendents, governing school board members, school district leaders, early child care professionals, youth organizations, attentive fathers, and parents.
Ty proudly served his country for ten years in the United States Navy earning such honors as the Navy Achievement Medal, Joint Meritorious Unit Award, Good Conduct Medal, and a Letter of Commendation from the Naval Inspector General (a Three Star Admiral in the United States Navy). He then moved on to Corporate America where he held such positions as Corporate Human Resource Generalist, Outside Sales Account Manager and Sales Trainer.
Over one million students, youth, teens and youth development professionals have benefited from the programs provided by Ty Howard. As founder and CEO of InspiraGen Institute LLC, based in Baltimore County, Maryland, Ty works with public and private schools, colleges, universities, youth and young adult conferences, associations, corporations and non-profit organizations, both nationally and internationally. He appears frequently on national radio and television interview programs to discuss practical success and personal improvement techniques for young people and the professionals who work with them.
Ty's contagious personality, passion, and persistence to learn, apply and teach cutting-edge insights, techniques and strategies prompts schools and youth organizations to invite him back again and again. He's the author of the best-selling book Untie the KnotsTM That Tie Up Your Life: A Practical Guide to Freeing Yourself from Toxic Habits, Choices, People, and Relationships, and the forthcoming book You Were Born to Be G.R.R.R.R.E.A.T.!!!!TM: The 8 Essentials of True GREATNESS, An Empowerment & Character Enrichment Guide for Teens (Pub. Release Date: September 28, 2018).
Ty Howard and InspiraGen Institute, LLC provide 5 scholarships to deserving young college-bound students from across the United States each year. Since the inception of the Ty Howard College Scholarship Fund Program in 2004, InspiraGen Institute LLC has granted more than 25 scholarships worth over $60,000. Ty is considered a dynamic professional speaker, strong R.O.I. consultant, humanitarian, business leader, entrepreneur, and passionate human being by many people who have met or engaged him.
If you're looking for a professional speaker or presenter whose message will last beyond the presentation, you need to look no further. Ty's presentations have a solid reputation for leaving all in attendance inspired, enlightened and empowered to see, do and accomplish more, beginning that very day. He challenges his listeners to think about their own lives, the lives they touch, and to always strive for and capture True GREATNESS.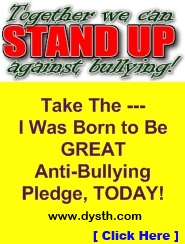 Ty Howard's Process to Create a Safe & Bully-Free Zone
---
---
Download "Ty Howard's – Speaker InfoPack" (PDF)

Download "8 Ways to Fund Ty Howard's Teen or School Programs" (PDF)

Ty Howard's College Scholarship Fund Program
---
---
Click here to: Book Ty or Here to learn: How We Work With A Client
For more detailed information about Ty's programs and products, please contact us:
Inspiragen Institute, LLC
6400 Baltimore National Pike, Suite 134
Baltimore, Maryland 21228
Phone: (443) 982-7582